Where's the thanks in that?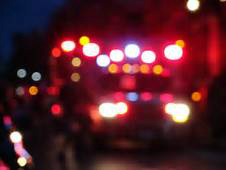 One of the funny things about trauma nursing is the fact that we are always there at the beginning of a crisis. We swoop in like a swarm of bees, working together in critical situations. We can literally start IVs, calculate critical medications, put tubes in every orifice… all within minutes…sometimes even seconds. What we do can literally determine whether a patient is given a chance of survival or not. We are irreplaceable. We are fierce. We are masters of time manipulation. We are all of those things and all of those things are imperative in the beginning of a crisis.
Moving forward, patients are often rushed off to the OR and then the ICU where they will spend weeks healing. It is during those weeks that the patients and their families form a bond with their doctors and nurses. They don't really think about the ER and what happened there. Most likely, the patients don't even recall being in the ER. Their families don't either. You can't really blame them. People are in shock in the ER. The patients are in shock… The families are in shock…
When a trauma makes the news, you will hear the patients and their families thank the first responders, the doctors, and the ICU nurses. Rarely is the ER even mentioned. I often joke and say that the ER is like the ugly girl in the movie who decorated for the prom but didn't get invited to go. It's sad but true.
Having said that, you should know that ER nurses are built a little bit differently than most people. For the most part, we don't need recognition. We do our jobs because we love it. We do our jobs because it's our passion.
Today, I watched in awe as someone near and dear to my heart was being discharged from the hospital. I think I have been holding my breath since the day they were admitted. The nurses who cared for that patient didn't need pomp and circumstance. They didn't need to be remembered. What they needed was to see their patient live…and that's exactly what they got.